Plans to redesign Leek town centre go on display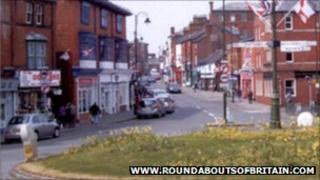 Blueprints for the redesign of a Staffordshire town have gone on display at a four-day exhibition.
The changes to the centre of Leek are a condition of Sainsbury's winning planning permission for a new supermarket in the town.
The supermarket chain has donated £350,000 towards road alterations.
Earlier proposals, which included the removal of the roundabout in front of the Nicholson monument, have been the subject of a lengthy protest.
Last year, hundreds of people marched through the town centre over concern that the new routes would result in rat runs.
'Protecting the past'
Councillor Andrew Hart said: "The four-day exhibition shows that we're making good our promise to be open and transparent about the way we're working with the county council, Sainsbury's and others to improve the town centre.
"This project means we will improve the street scene while creating extra capacity in the road network to allow further growth, prosperity and jobs to come to Leek, without the town centre coming to a grinding halt.
"This is all about protecting the past, without blocking opportunities for the future."
Patrick Redmond, from CTD Architects, the company responsible for drawing up the plans, said: "Derby street is a wonderful, historic street with monuments... it's important that any scheme proposals for the improvement of the public realm protect and enhance those views."
Residents are being encouraged to give feedback on three different schemes.
Details of the favoured option will be announced in March.