Staffordshire social care workers could transfer to NHS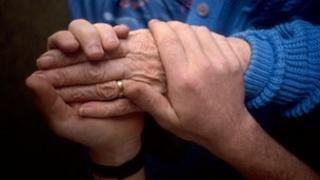 Radical changes to the delivery of health care in Staffordshire are set to create the largest combined social care and health trust in the UK.
The plans could see almost 1,000 social care workers, currently employed by the county council, transferred to the NHS.
Staffordshire County Council said the changes could see people spend less time in hospital and receive more treatment in their own home.
The strategic health authority now has to give its decision on the plans.
The proposed move is expected to take more than six months to complete.
"People will start to notice significant differences very, very quickly," said Councillor Matthew Ellis, one of those behind the move.
"All the evidence shows that individuals want more community-based support which helps them maintain their independence, a less confusing system and services that are responsive to their needs.
"The point at which someone goes from needing clinical support from the NHS, to then needing social care support from the county council, there is often a bit of jockeying for position.
'Seamless transition'
"Now with the formation of the joint NHS and social care trust, all the money is now in one pot.
"This decision potentially changes the face of health and social care services. This is the biggest financial decision ever taken by the county council.
"It's not been done in this way in the country before. And while this is a complicated piece of work, what we have to do is make sure that the patient isn't inconvenienced and sees a seamless transition through to the new way of doing it."
Responding to the proposed changes, Unison said: "The staff trade unions are working with the employers to ensure adult care is at the heart of the integration.
"Bringing together health and social care to work more closely in the community has the potential to improve patient care and outcomes for adults.
"We will also be working closely with employers to secure a smooth transition of staff to enable them to deliver the services that our valued members of the community deserve."