Stafford Hospital reports increase in serious incidents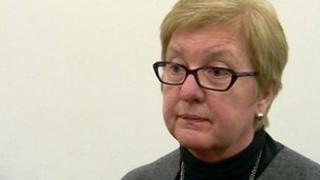 The number of serious mistakes reported by staff at Stafford Hospital has continued to rise.
Last year the hospital was the subject of a £10m public inquiry looking at standards of care.
Between the last two financial years, 2009-10 and 2010-11, the hospital recorded a 38% increase in the number of "serious and untoward" incidents.
Chief executive of the hospital trust Lyn Hill-Tout said the rise was partly due to improved reporting procedures.
In the last financial year, covering 2010-11, staff at the hospital reported 29 serious mistakes.
'Appalling standards'
"We want to create a culture where we encourage staff to report serious and untoward incidents so we can action them and learn from them," she said.
"Some of the definitions around serious incidents have also been changed and it's quite right we should be reporting more."
From April 2010-11 the hospital also recorded three "never events", including two incidents of wrong-sided surgery.
"Never events, as they say, should not happen. We do still have these happening in our hospital and that is completely unacceptable," Ms Hill-Tout said.
Last week the hospital unveiled a plan aimed at turning it into one of the safest in the country.
Targets set out in the Quality and Safety Strategy include the treatment of patients and staff training.
The public inquiry, which closed in December, was set up after a report by the Healthcare Commission criticised "appalling standards" of care at the hospital.
Its chairman Robert Francis QC is expected to publish his findings later in the year.