Tunstall traders' fears over station closure plan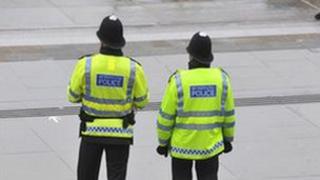 Traders in part of Stoke-on-Trent fear the proposed closure of a police station will increase anti-social behaviour problems in the area.
Tunstall is among nine stations Staffordshire Police may close as it seeks to save £22m over two years.
Bill McDonald, of Tunstall Chamber of Trade, said a "police presence" was needed as part of plans to tackle alcohol-related disorder.
The force said officers would continue patrolling the streets.
In their latest neighbourhood newsletter Staffordshire Police told local residents they could "categorically confirm" that Tunstall Police Station has not been earmarked for sale in 2012/13.
Chief Inspector Adrian Roberts said: "Whilst there are no plans to sell the site, it is fair to say that we are reviewing its use to ensure it provides value for money to the local community."
But Tunstall traders fear problems in the town will not be solved if its police station closes.
The chamber of trade presented a petition to Stoke City Council in the autumn calling for an Alcohol Restriction Zone (ARZ) in Tunstall.
Plans 'expanded'
Mr McDonald said the council had "expanded" the original plan but police officers were needed to make it work.
"If the area gets approved that they are proposing, I would have thought that a police presence was even more important," he said.
However, Mr Roberts said the force was facing an "unprecedented financial challenge" and so had to review how it used its buildings, particularly those which were under-used or expensive to maintain.
Staffordshire Police are considering closing nine stations in favour of alternative community sites, which could involve sharing buildings with other groups.
Chief Constable Mike Cunningham has said no police stations would close until new sites had been found.