Film of Titanic captain Edward Smith at Potteries Museum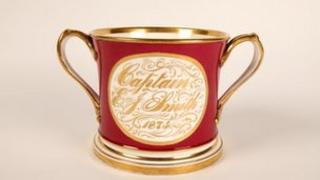 Rare film showing the captain of the Titanic is being shown as part of an exhibition in his home town of Stoke-on-Trent.
The archive film shows Captain Edward John Smith on board Titanic's sister ship the Olympic.
Captain Smith, who died when the Titanic sank in 1912, was born in Hanley.
The exhibition at the Potteries Museum & Art Gallery looks at the links between Stoke-on-Trent and the liner.
Councillor Mark Meredith said: "This city has extremely close links with the ship and this display gives us the chance to explore some of these."
A special cup presented to Captain Smith before he took charge of the Titanic will also feature in the exhibition.
Information boards will tell the stories of other local people who lost their lives when the liner sank on its maiden voyage after hitting an iceberg.
The exhibition runs until 31 December.