Stafford Hospital: GPs plans to downgrade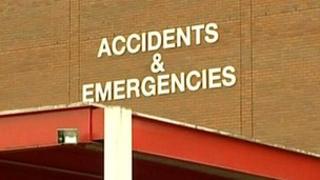 GPs in Staffordshire have set out a radical plan to downgrade Stafford Hospital to what could be described as little more than a cottage hospital.
In a letter, the doctors outline proposals which would see the accident and emergency department becoming an urgent care centre dealing with broken bones, cuts and grazes.
The hospital would also deal with simple diagnostics, like x-rays, and have a maternity unit led by midwives.
Outpatient appointments would still take place in Stafford, but with doctors brought in from Stoke, Wolverhampton or Walsall.
The doctors' views have been revealed in a leaked letter which shows they have become frustrated at the lack of progress at the hospital.
They also believe it cannot meet its savings targets and it is likely to need £15m in bail-out funds.
The letter was sent by the Stafford and Surrounds and Cannock Chase Clinical Commissioning Groups (CCG) within the last month.
The CCGs represent doctors who will take over the purse strings for buying health care from 2013, under plans in the NHS health bill.
Under the proposals they will make the decisions over what services to commission from which providers, including hospitals.
'Slow death'
In the letter, sent to the chief executive of the Staffordshire Group of Primary Care Trusts, the GPs say they do not believe that they can deliver a safe and viable hospital and do not wish to preside over its slow death.
The plan takes into account that 50% of urgent care will, in future, be delivered in GP surgeries.
It also envisages out of hospital services for the elderly and those with chronic illnesses.
It appears the CCG is extremely disappointed that it has been given no input to a plan for the hospital which was to be sent to Monitor by the end of January.
In a joint statement, the CCG and PCT have said: "Following the well documented issues that Mid Staffordshire NHS Foundation Trust has had, it is inevitable that there is a requirement for changes and modernisation of services.
"We understand that the local GPs have been frustrated by an apparent lack of progress of change."
The GPs have already agreed plans that will go to the Common Cluster Trust Board next week, on the modernisation of the urgent and emergency care pathway, which could see a 24/7 Urgent and Emergency Care Centre model operating from Stafford Hospital.
Any significant changes in the provision of healthcare services require public engagement and consultation before any decisions are implemented.
Director of Finance at Mid Staffordshire NHS Foundation Trust, Darren Cattell said: "None of the proposals outlined in the letter have been agreed by our board and we stress that no decisions have been made."