Stoke City illegal matchday parking crackdown 'success'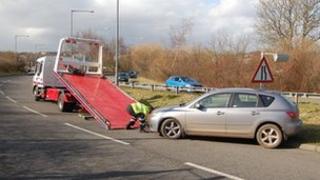 A scheme to cut inconsiderate parking in streets around Stoke City's Britannia Stadium on matchdays has been a success, police say.
The existing tow away areas have been extended to include Bannister Close and Holm Close in Boothen.
Staffordshire Police said only one car had to be towed away on Saturday.
Sgt Ian Revans said: "Supporters took note of our media campaign and the new signs and did not park in the new areas."
One car was towed away from the A500 southbound slip-road at Sideway, police said.
Sgt Revans said: "These slip roads are covered by the A500 clearway order and it is dangerous, and illegal, to park there."
Special constables patrolled the A500 around the stadium to remind motorists it is illegal to park there.
Recovery charges for a vehicle that has been towed away are in the region of £175 to £250, police said.
The scheme is the result of a partnership between the police, the football club and Stoke-on-Trent City Council.