Car bonnet under lorry after Stoke crash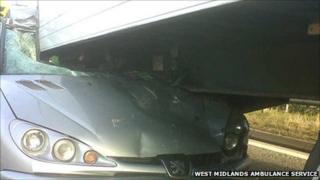 Two young men escaped with cuts and bruises when their car bonnet ended up under a lorry in a crash in Stoke.
Their windscreen was smashed in the crash on the A500 about 08:10 GMT.
The driver, 18, had facial injuries. The passenger, 19, suffered a forehead cut, an ambulance spokesman said.
"Ambulance crews at the scene have spoken of how lucky these men were not to have been more seriously injured and how fast their reactions must have been to have ducked in time," he added.
The two men were believed to be driving home from work.