Trauma centre at new Staffordshire hospital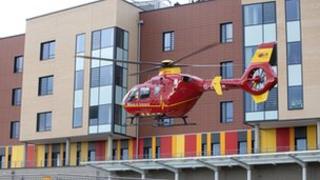 A major trauma centre is being unveiled at the new University Hospital of North Staffordshire in Stoke-on-Trent.
It will be one of four such centres in the West Midlands that will deal with complex emergencies, such as head injuries and multiple injuries.
The other centres are the Queen Elizabeth and Children's hospitals in Birmingham and University Hospital Coventry and Warwickshire.
They will all officially go live on 26 March.
24-hour treatment
The trauma centre at the University Hospital of North Staffordshire will be part of the new accident and emergency unit at the City General site, which opens on 15 March.
To recognise the new centre, a RAF Sea King helicopter will carry out a test landing on the helipad of the new hospital.
Other emergency cases dealt with by the centre will be amputations and severe knife or bullet wounds.
Major trauma can be defined as a serious and life-threatening physical injury that could have complications.
In 1991, the University Hospital of North Staffordshire served as the UK's pilot major trauma centre.
Every year up to 200 patients at the hospital are classified as having suffered severe trauma.