Portmeirion pottery group reports profit increase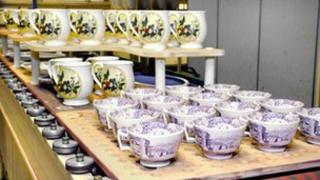 Stoke-on-Trent ceramics manufacturer Portmeirion has announced an increase in pre-tax profits of almost 21%.
The company, which employs almost 600 people, said it made £6.3m profit, with revenues at a record high of £53.6m.
It is the third successive year the group has reported an increase in revenues since it bought the Spode and the Royal Worcester brands in 2009.
Portmeirion Group PLC said it had added a further 50 jobs in the last year, mainly in Stoke-on-Trent.
Non-executive chairman Dick Steele said: "We've worked hard to earn this.
"We have a heck of a heritage here in Stoke-on-Trent and we produce in Stoke about 50% of what we sell.
"Yesterday, another 25,000 plates, mugs and cups came out of our factory in Stoke-on-Trent."
The company is hoping jubilee celebrations will help boost profits again this year, as people buy memorabilia marking the Queen's 60 years on the throne.
Portmeirion said production in 2011 was also up by 18% on the previous year, although its Stoke factory was now near capacity.