Stoke postal manager appeals after 44 dog attacks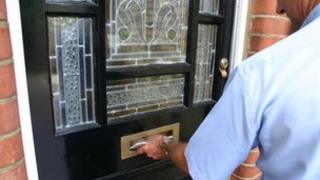 The manager of a Stoke-on-Trent sorting office has appealed to dog owners to restrain their pets after 44 attacks on postal workers within a year.
The Royal Mail sorting office in Leek Road has put up a "dogs board" showing photos of workers' injuries after a spate of attacks.
Manager Glenn George said the situation was worse in the holidays when more dogs were loose in gardens.
Royal Mail says more than 24,000 of its staff have been attacked since 2006.
Last month it launched a national inquiry into the problem, seeking recommendations to reduce the number of attacks.
Mr George said 162 working days had been lost in the past year as a result of dog bites.
'Very emotive'
He said: "It's a very emotive subject because it's customers' dogs that have actually bitten our postmen and it's very, very worrying.
"I'm hoping to get the message across to our customers to support and help us by perhaps knowing when the postman is about and restraining their dog and locking their dog away when the postman is delivering."
Postman Darren Brannigan said after he was bitten, the post to that address was suspended until Royal Mail was satisfied the dog was not a threat.
He said he was attacked when the dog was with its owner, who believed the German shepherd was under control.
"The dog ran at me and I turned to my side and he bit my ribs.
"But if I'd left my arm there he'd have made a right mess of my arm.
"He made a mess anyway and it really shook me up, it was scary."
Royal Mail's national investigation has been welcomed by the Communication Workers Union (CWU) which has called for tougher legislation on the matter.