Alfie Smith inquest: Father will 'carry burden'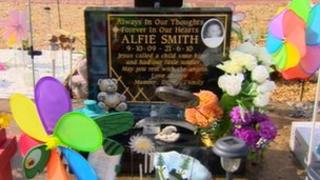 The father of a Stoke-on-Trent baby who died after he rolled on top of him in his sleep will "carry the enormous burden with him", a coroner has said.
Seven-month-old Alfie Smith died in June 2010, four months after he was found unconscious under Dale Anderson.
The coroner at Stoke-on-Trent Crown Court on Wednesday recorded a verdict of accidental death.
Alfie had been placed with his maternal grandmother, Patricia Owen, by social services.
The inquest heard he was found unconscious, lying face down on a sofa under his sleeping father at her house in Basford in February 2010.
Mr Anderson was instructed to carry out mouth-to-mouth resuscitation and Alfie was taken to hospital. He died in June that year.
The inquest was told that a blood test found no alcohol in Mr Anderson's system, but did find traces of cannabis.
Alfie's 20-year-old mother Sheree Smith is currently serving a life sentence for the murder of a neighbour.
'Avoidable accident'
Although the coroner said the actions of social services, police and other agencies were not directly linked to Alfie's death, last month the inquest heard that opportunities were missed to protect him.
Stoke on Trent City Council also admitted it had left the child vulnerable.
Speaking after the verdict, the baby's paternal grandmother, Dawn Walton, said she believed social services made mistakes "all along the way".
Ms Walton said: "It was an accident, I do believe there was no harm intended, but it was an avoidable accident."
She said "the best was done for him" in hospital after his injuries were received "but it was totally lacking before".
"We'll never get over it, Alfie was a very special child," she added.
Councillor Debra Gratton, from Stoke-on-Trent council, said action had already been taken to reduce the risk of this kind of "very tragic accident" happening again.
'Complex needs'
She said: "There is always room for improvement in safeguarding children and we will always take any recommendations and act on them as quickly as possible, as we have done in response to this case."
The council said it would work with the safeguarding children board to "raise awareness on the risks and dangers of co-sleeping", an issue also raised by the coroner.
Independent chair of the Stoke-On-Trent safeguarding children board Jackie Carnell said the coroner's verdict was closely aligned with the serious case review that was carried out.
The report last year found "the quality of inter-agency communication was generally evidenced as poor".
Ms Carnell said: "I thought it was a very fair verdict, there were a lot of professionals involved in this family who had very complex needs - that was pretty clear throughout the review.
"We're trying hard to get it better and we have to try not to let it happen again, we can't ever say that it won't but we have to make sure that these lack of communications are less likely to happen."