Cage-fighting loan shark Giovanni Caruso jailed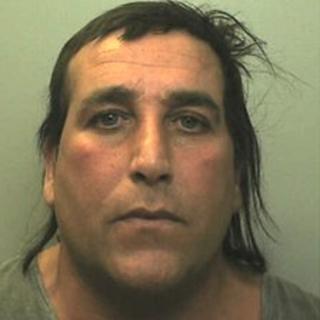 A cage-fighting loan shark from Stoke-on-Trent who was earning around £3,000 a week has been jailed for four-and-a-half years.
Giovanni Caruso, 41, of Foley Street, was found guilty of illegal money lending, blackmail, money laundering and perverting the course of justice.
Caruso was arrested after police raided his house in November 2010.
He was convicted at Stoke-on-Trent Crown Court after three victims agreed to give evidence against him.
Caruso told victims he would "rearrange their face", "break their legs" and "chuck acid into their face so no-one would recognise them again", the court heard.
On a number of occasions he told a female victim she should work as an escort to pay off the debts, telling her he could drive her a long way from Stoke to do so.
'Brave' witnesses
Ben Mills, prosecuting, told the court unemployed Caruso loaned money at a rate of £50 interest for every £100 borrowed to begin with, but increased the interest amount once people had taken out their loan.
He gave no paperwork and was unclear with borrowers as to the terms of the loan, and how long they will be paying.
He told one victim to just to keep paying and he would tell him when to stop.
Caruso's own records, kept on his mobile phone, revealed he was lending money illegally to 88 people and receiving payments of around £3,000 each week, over an 18-month period.
Cath Williams, from the Illegal Money Lending Team, said most of Caruso's victims were friends with him initially, but grew frightened of him as he made threats to them and their family members.
She said : "We had three people brave enough to go to court and we're very grateful to those who do put their head above the parapet.
"We completely understand how frightening it is... especially if there is intimidation involved."