Hednesford memorial dedicated to Cannock Chase miners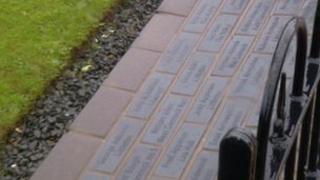 A memorial naming nearly 1,500 miners who worked in the Cannock Chase coalfields is due to be dedicated in Staffordshire this weekend.
The names have been engraved on individual bricks at a cost of £20 each and have been planted round a garden in Hednesford town centre.
The Cannock Chase coalfields once supported as many as 48 coal mines - the last, Littleton, closing in 1993.
The memorial will be dedicated in Hednesford on Saturday.
One of the organisers Mike Mellor said: "When we started in about 2005 there wasn't anything across Cannock Chase to recognise the efforts of miners.
"It was through these coalfields that the towns of Cannock, Rugeley and Hednesford grew. The communities depended on these mines."
Memorials have since been built in Cannock and Rugeley and a miner's lamp was built in Hednesford six years ago, largely by public subscription.
Mr Mellor said the group had been inspired to launch the second stage of the project after seeing the level of demand in 2006.