Staffordshire hospital penalised for waiting time failures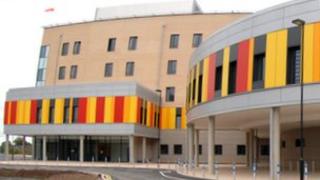 A failure to meet national waiting time targets has led to £1m being withheld from University Hospital North Staffordshire's contract.
The county's cluster of primary care trusts (PCTs) said the hospital had "persistently" failed to meet the four-hour accident and emergency target.
It added money would continue to be withheld if improvements were not made.
The hospital claimed the problems were often caused by an inability to admit patients to wards.
Magnus Harrison, clinical director at A&E, said 95% of patients who were not admitted were treated within four hours.
He added that A&E was at the end of a "domino-effect" of problems.
Further penalties
He said: "I would like nothing more than to get them through into the right places.
"It's an efficiency problem, getting people into the right place and the right beds.
"So from an emergency point of view it's egress into the wards and from the wards' point of view it's egress into social care and intermediate care."
The cluster PCT, which commissions services, acknowledged that the problem was with the "flow" through the hospital system.
"Whilst, as commissioners we remain assured that services at University Hospital of North Staffordshire are intrinsically safe, we recognise that it is a poor experience for the patient to be waiting beyond four hours in A&E," it added.
The PCT said a recovery plan had been discussed with the hospital, but that it would face further penalties if improvements were not made month-on-month.
Mr Harrison said he believed the problems could be resolved.
He said more consultants, middle grade doctors and nursing staff were now working in the emergency department than in previous years.
The clinical director added that facilities in a new unit, which A&E moved into in March, would also help to improve performance.
The hospital trust, which has 1,091 beds, added that it was also considering plans to open new wards to deal with an increase in admissions.