USA police boxers take on Staffordshire officers for charity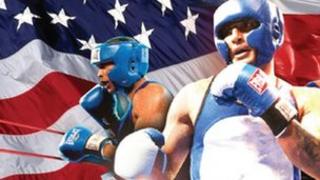 A team of boxers from police forces in the USA is taking on one from Staffordshire Police later to raise money for children's charities.
The "Battle of the Badges" features police officers from New York and Los Angeles.
The event came about after a charity bout between Staffordshire police officers and firefighters was streamed on the web and seen by the USA team.
They offered to bring their boxers to the UK for another fundraising event.
After the bouts at the Fenton Manor sports complex in Stoke-on-Trent, the USA team will go to Scotland to compete against Lothian police.
Money raised will go to Caudwell Children, a charity helping terminally ill and disabled children in this country, and the Dr Theodore A Atlas Foundation, which helps disadvantaged children in New York.
The charity bouts between Staffordshire police officers and firefighters raised £22,000.
Det Insp Steff Lungrin, one of the organisers, said; "We have sold more than 700 tickets, so it's going to be great for the community."
One of the 11 bouts will involve a contest between a female community support officer from Staffordshire and a female police officer from the Bronx in New York.