Staffordshire fire vehicle equipped for animal rescues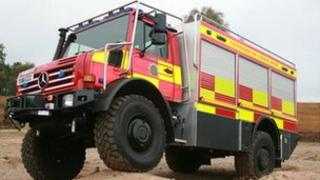 A new all terrain vehicle to tackle woodland fires and animal rescues has come into service in Staffordshire.
The vehicle carries 2000 litres of water, 100 litres of foam and can travel through water over a metre deep.
It will be based at Cannock Community Fire Station.
Station manager, Ian Broadhead said: "It can get to areas that a normal fire engine wouldn't be able to get to and also carries equipment specifically for dealing with animal rescues."
The vehicle has special ropes and harnesses that can be used to rescue animals.
Staffordshire fire service said 10 firefighters had been trained to use the new vehicle.
Part of their training involved practising animal rescue techniques on a mechanical horse.