Vote 2012: Mixed fortunes for parties in Staffordshire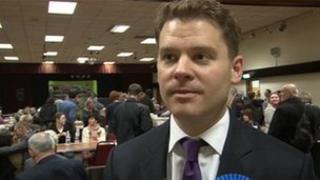 The Conservative Party have held on to control at Tamworth Borough Council but seen Labour claim a majority on Cannock Chase District Council.
In Tamworth, the Conservatives lost four seats to Labour, but still claimed a working majority of six.
Cannock Chase had not been in the control of any group, although Labour was the single largest party.
Labour gained seven seats, while the Liberal Democrats lost all four of their seats being contested this year.
Aiden Burley, Conservative MP for Cannock Chase, said the opposition gains were "very disappointing" and that his party needed to "learn the lessons".
The Conservatives lost just three seats in Cannock, with Labour benefiting from Liberal Democrat and Liberal Party losses.
In Newcastle-under-Lyme, Labour have taken control of the council, ending the Conservative/Liberal Democrat coalition which had a combined majority of three seats.
Twenty seats were up for election and Labour needed to gain seven seats for their overall majority.
Labour leader Eddie Boden described the election as a "great result".
The council's Conservative leader Stephen Sweeney said national issues had forced them out.
Voter turnout there was 29%.
• All the latest election results are available at bbc.co.uk/vote2012