Staffordshire University to spend £10m improving campus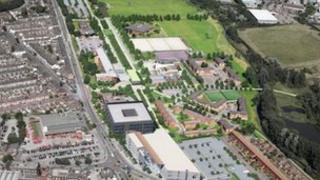 Staffordshire University is to spend £10m revamping its campus in Stoke-on-Trent.
Most of the money will be spent on upgrading buildings at its Leek Road and College Road sites with £4.5m going on landscaping.
Some of that work has already begun with the construction of a pedestrian route between the two sites.
The university said the investment will complement its new £30m Science Centre which is in its final building phase.
The new centre, which will feature specialist laboratories and a psychology suite, will open later this year.
Deputy Vice-Chancellor Paul Richards said: "Student expectations continue to grow and these ambitious plans go a long way to improve the overall study environment and access between key sites in the University Quarter.
"We believe the upgrade will have a positive impact on the experience of every student who attends our Stoke campus," he added.