Money Kills: Stafford action film goes to Cannes film festival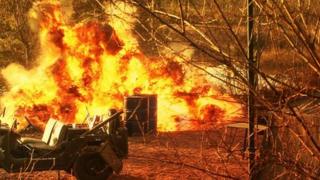 A muscle-bound, gun-toting action hero stalks through the grasses of the African Savannah bathed in the hazy early-morning sunshine.
This could be a scene from a multimillion-pound Hollywood blockbuster, but was actually shot on location at Cannock Chase for Money Kills, a film by Staffordshire-based Sheringham Studios.
The film, described by director 26-year-old Lee Murphy as "Die Hard on a budget", gets its premiere at the Apollo Cinema in Stafford on Thursday, and will be shown at the Cannes film festival at the end of May.
The film stars Hollyoaks actress Rachel Shenton.
Almost the entire movie was filmed in the county at a cost of £50,000, which Mr Murphy said is "what Hollywood films spend on a catering van for a week".
He added: "It was always my intention to do it all in Staffordshire because we knew I could get locations for very little money, but we also had a clear vision of what we wanted to achieve.
"We've blown up truck yards, filmed aeroplane chases, we've done it all here and we knew by doing it locally people would support us rather than doing it in London where people are going to want stupid amounts of money to hire out locations."
The money to pay for the film was all provided by local companies and business people, including the Stoke City chairman and owner of online betting firm, Bet 365, Peter Coates, who is now a majority shareholder in Sheringham Studios.
Mr Murphy has been working on the film for four-and-a-half years although Sheringham Studios was established more recently, in spring 2011.
"I was fed up with the gangster films and rom-coms we produce in this country and I wanted to make the kind of movies that I like, like Die Hard and Lethal Weapon, but also very commercial.
"Money Kills harks back to those cheesy 80s films where the hero can be shot 10 times but he still keeps going."
Along with managing director Richard Wood and producer Philip Tatton, Lee runs Sheringham studios out of offices on Hollinshead Business Park in Stafford.
Stolen kidney
Their long-term aim is to build a full sound stage later this year.
"We're doing everything ourselves for the business at the moment," said Mr Wood.
"One minute I'm talking to an architect about the sound stage, or sorting train tickets to Cannes, and then at the other end of the spectrum I'm speaking to caterers about sandwich fillings and quiche for the premiere.
"We've saved thousands of pounds by doing everything ourselves, but it shows we can deliver films with high-end production values but keep the costs low."
Money Kills has been picked up by a distributor from Los Angeles, Fabrication Films, which is selling the cinema, DVD and on-demand rights across the world.
It is showing the movie at the Cannes film festival and Mr Murphy, Mr Wood and Mr Tatton are going along to try to raise money to help fund two other films, Stitch, and a prison drama, The Damage Done.
And Mr Murphy already has the man in mind to play the lead in Stitch, an action movie about a man who has his kidney stolen.
"One of our major investors owns a restaurant in Malibu, where Bruce Willis is one of his big customers. Once the script is finished we're going to send a copy over to see if he'll read it.
"We're told Bruce Willis only reads six or seven screenplays a year but we're hopeful ours could be one of those."