'Too few new homes' in Stoke-on-Trent for 30 years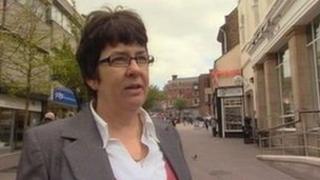 A housing association head says the construction industry needs a "massive boost" to ensure much-needed homes are built in Stoke-on-Trent and other areas.
Gill Brown, chief executive of Brighter Futures, spoke after the unveiling of 17 two-bedroom bungalows - the first new council homes to be built in Stoke for nearly 30 years.
"All the headlines you see such as plans to move people from London to Stoke or rising homelessness in Stoke - it's because there are not enough homes," she said.
"There hasn't been enough new housing for 20 to 30 years. So any initiative which builds more homes - whether it's 17 or 17,000 - has to be applauded."
Stoke-on-Trent City Council, which has invested £1.5m in the scheme in Chell Hill, said all the new houses were let within a few weeks.
About 3,000 individuals or families in the city are on the waiting list for social housing.
The Labour-led council, which manages 19,000 properties across the city, said two-bedroom homes were most in demand.
Ms Brown revealed last month how Brighter Futures had been offered a "premium price" to find accommodation for up to 500 families on benefits from the London Borough of Newham.
Newham Council said it was struggling to deal with the number of people pushed out of more central parts of London and had written to ask more than 1,000 organisations around the country for help.
Ms Brown said there has been a "lack of government investment" in housing since the 1960s and believes this should now be turned around.
Ms Brown said this would also "boost economic growth" by bringing more construction jobs to Stoke.
'Affordable and secure'
She suggested the answers include tax breaks for building firms, more government investment in house building and grants for schemes by housing associations, local authorities and Local Enterprise Partnerships.
Meanwhile, housing groups and charities say a general housing shortage is hitting the younger generation hardest and is expected to worsen.
By 2025 there will be a housing shortfall of 750,000 in England alone , according to the Institute for Public Policy Research.
Housing charity Shelter said overall house building across the country was at "record lows" and the government needed urgently to increase investment in building affordable homes.
Kay Boycott, director of Communications, Policy and Campaigns, said: "These new council homes are great news for those 17 families in Stoke-on-Trent who will benefit from them.
"But with thousands of households currently on the city's housing waiting list; clearly a lot more needs to be done to ensure everyone can access an affordable and secure place to live."
Stoke Council also said a lack of government funding over the years had meant council homes had not been built in the city.
However, it said it now had greater control over spending on housing and the new bungalows were a "catalyst of the future".
Councillor Janine Bridges said: "Now that the government is handing control of housing renewal allowances to councils, this housing scheme is something we can build on for the future."
The Department for Communities and Local Government said thousands of new affordable homes were planned.
"Through the Affordable Homes Programme 146 providers, including 26 local authorities, will deliver 80,000 new homes for affordable rent and affordable home ownership with government funding of just under £1.8bn," a spokesman said.
"This means we will be able to deliver even more homes for every pound of subsidy from the taxpayer."