London 2012: Roof fall teenager to carry torch in Stoke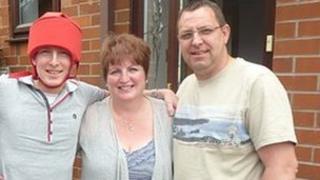 A teenager who suffered serious head injures in a fall through a roof will carry the Olympic torch, almost exactly two years after the accident.
Tom Buckett, now 18, was found in the grounds of Clayton Hall Business and Language College, Newcastle-under-Lyme, Staffordshire, on 30 May 2010.
He will be an Olympic torchbearer in Cobridge, Stoke-on-Trent, on 31 May.
Mr Buckett said: "I don't know how to explain it - it just feels amazing that I'm actually doing it."
The teenager fell 15ft (4.5m) through a skylight, shattering one side of his skull.
'Pretty down'
His mother, Amanda Buckett, said her son was in a critical condition for two weeks and was told he would not walk again.
Asked about his experiences, Mr Buckett said: "I was pretty down all the time.
"But now I just push myself to make sure I can do it and never say no. That's what I do.
"It feels great that I'm actually doing it, running the Olympic torch."
He will be one of 19 people carrying the torch in Stoke-on-Trent over 30 and 31 May.
It will be alight in Hanley Park as part of an evening celebration event, including music, on 30 May.
'Never complained'
Mrs Buckett added: "I can't tell you how proud I am of Tom, for him to achieve what he's achieved and to just keep pushing.
"After being told that you will never walk, you may not even recognise your parents... he's going to be there fully understanding why he's running and what he's running for."
She said that her son had "never, ever, ever complained".
"They said that Tom probably would never walk, wouldn't talk, wouldn't understand, certainly would never, ever kick a ball again or anything like that.
"So after months of rehab, he's now got his right side back.
"He got a bit frustrated when he couldn't express what he wanted to tell you, but he's never said 'why has this happened to me?'"