Trust campaign as £5m spent on unnecessary drugs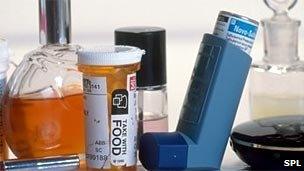 Some £5 million was spent in South Staffordshire last year on medicine that was never used, the NHS has said.
The primary care trust said the money wasted could have paid for 560 heart by-pass operations.
The trust has now launched a campaign urging people not to over-order medicines.
Leaflets will be put in all repeat prescription bags to encourage patients not to request more drugs every month unless they actually need them.
Street teams will also be handing out the leaflets to people in Tamworth, Stafford, Cannock and Burton-upon-Trent.
Nikki Chapman, from the South East Staffordshire Clinical Commissioning Group, said: "The campaign is to highlight to patients the need to order repeat prescriptions responsibly and not to stockpile medicines."
The trust said people should dispose of any unwanted medicines safely by returning them to a community pharmacy or dispensing GP for them to destroy.
Related Internet Links
The BBC is not responsible for the content of external sites.