JCB wins £60m Brazil roads contract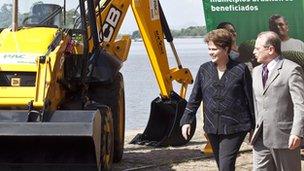 Staffordshire-based digger maker JCB has won a contract worth more than £60 million to improve roads in Brazil.
The company has described the tender for the Brazilian government as one of its "biggest single orders".
More than 1,000 backhoe loaders are being manufactured at the factory in Sao Paulo, Brazil.
JCB chief executive officer Alan Blake said it would have a positive knock-on effect in the UK where the machines were originally designed.
Mr Blake said: "There's not a direct effect on jobs in Staffordshire, but it's a big order for us as a company and that helps us in growing our market share, cementing our position… and that has a knock-on effect back here.
"These machines were originally designed here and obviously as these machines get sold into Brazil, our name gets stronger down there and we eventually then sell more machines.
"These are emerging markets. The so-called Bric countries, Brazil, Russia, India and China, they're the ones fuelling the world's growth and indeed they're fuelling our growth here at JCB."
The company said its machines were set to be used improving roads in rural areas and opening up access in communities that are dependent on farming.