Staffordshire physio Alison Nagata to be torchbearer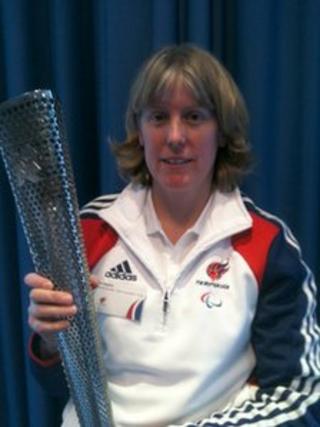 A sports physiotherapist from Staffordshire has become the second member of her family to be chosen to take part in an Olympic torch relay.
Alison Nagata, 43, from Stafford, will take part in Paralympic torch relay. Her brother Stephen Glover, 41, will be carrying the Olympic torch.
Mrs Nagata worked with the British Paralympic teams at the Beijing and Athens Olympic Games.
She said: "For us both to do it is just fantastic."
For the paralympic relay, four torches will leave the capital of each of the home nations and travel to Stoke Mandeville, the home of the Paralympic Movement.
Mrs Nagata will be part of a team of five who will then take part in a 24-hour relay from Stoke Mandeville to light the cauldron at the opening ceremony of the London 2012 Paralympic Games on 29 August.
She said: "It's a real honour to get selected because there are not that many people carrying the Paralympic torch.
"It's a much smaller event and so it was a big surprise and I'm really excited."
Before the relay, she will be working with the Great Britain Paralympic team at their camp in Bath as they prepare for the games.
Mrs Nagata is married to a member of the Canadian wheelchair basketball squad.
At the Beijing Olympics she was the head physiotherapist with Great Britain Paralympics athletics squad.