PC Rathband honoured on Stafford torch relay wall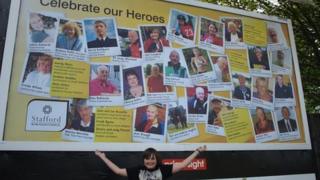 PC David Rathband is among dozens of people pictured on a "wall of honour" that has been unveiled on the Olympic Torch Relay route in Stafford.
PC Rathband, the officer found dead in February nearly two years after being shot and blinded by Raoul Moat, grew up in the town.
The wall's local heroes were nominated by residents, groups and councillors, Stafford Borough Council said.
The torch will pass by the billboards on the A34 near Greyfriars on 30 May.
'Poorer place'
Marathon-running paramedic Ray Edensor, who has raised tens of thousands of pounds for charity, is also featured on the wall; as well as business people, including the late haulier Stan Robinson.
The borough council said people who did deeds in the community "many which go unnoticed" were included, such as neighbourhood watch stalwart Lou Hancock.
Adele Edwards from Little Onn, who has raised awareness about ovarian cancer, is also pictured.
Joel Campbell, 12, who has raised funds through busking for charities including PC Rathband's Blue Lamp Foundation, also appears on the wall.
Councillor Mike Smith said: "This is a small way of recognising some of the people - those living and some recently passed away - who make our borough what it is.
"From the high-profile names to the unsung heroes who, without them, our area would be a poorer place to live, work and visit."