Staffordshire Hoard-inspired Anglo Saxon warrior statue unveiled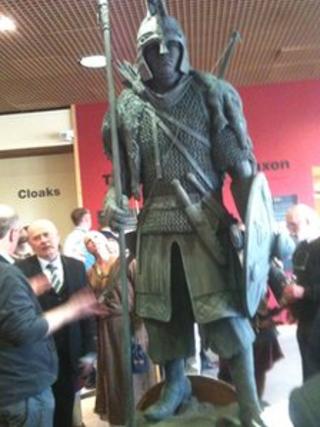 A 9 ft (2.74m) sculpture of an Anglo-Saxon warrior inspired by the Staffordshire Hoard has been unveiled at a museum.
The statue at the Potteries Museum and Art Gallery wears replicas of some of the 3,500 pieces of Anglo-Saxon treasure found by a metal detector.
The Staffordshire Saxon has been made by local artist Andy Edwards and two apprentices.
The £25,000 project was funded by Stoke-on-Trent City Council.
Councillor Mark Meredith said: "The statue brings to life the intricately designed gold sword pommels, helmet fragments and knife fittings, by showing how a 7th Century battle-clad warrior would have looked wearing them."
The museum will host a new exhibition of hoard items which opens on July 21.
The hoard of gold and silver artefacts was found by a metal detector enthusiast in a farmer's field in Staffordshire in July 2009.
It is now jointly owned by the Birmingham Museum and Art Gallery and the Potteries Museum.