Missing runner John Lawton: Search team return 'disappointed'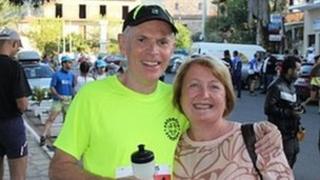 A UK search and rescue team has returned from Greece "disappointed" after failing to find a missing Cheshire runner.
John Lawton, 62, from Alsager, went missing on 8 April during an off-road race near Kalamata, in southern Greece.
Mr Lawton's family and members of his running club raised funds to send the Cheshire search and rescue team after the official search was called off.
After a five-day search the Cheshire team returned to the UK on Wednesday.
They said it was "disappointing and saddening" that they had not tracked down Mr Lawton.
Simon Lane, the team's secretary, said they found energy gel sachets of a brand and flavour used by Mr Lawton, as well as foil blankets.
'Aspect of hope'
Mr Lawton's son Steve said the items would be DNA tested, but that it was out of character for his father to discard anything during a run.
Mr Lane said the 15-man Cheshire team had worked alongside volunteers from Mr Lawton's running club, Sandbach Striders, to identify routes he might have taken and places he might have rested.
Mr Lane said the team was talking to the Lawton family to decide on the next course of action.
Steve Lawton praised the efforts of both the Greek and Cheshire teams and said the latter had brought a new perspective to the search.
He said the family had to "keep an aspect of hope", but were mindful that his father had been missing for 39 days.
He added that the evidence suggested his father had gone "quite significantly off-course", and there were a number of areas that had been "less intensively" searched.
The subject is also due to be debated in parliament later, after being raised by Conservative MP for Congleton Fiona Bruce.