Stoke-on-Trent house collapses after explosion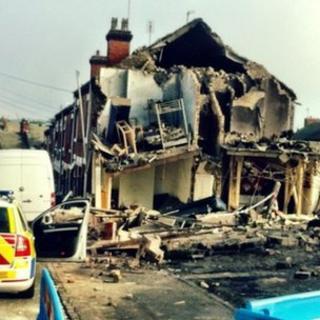 A house has collapsed in Stoke-on-Trent following an explosion.
Two people were treated for minor injuries after the incident at an end of terrace property in Argyle Street, Shelton, shortly before 15:00 BST.
"Neighbouring properties have been evacuated as a precaution and the scene has been cordoned off," Staffordshire Police said.
Officers are investigating the cause of the explosion, which led to road closures and traffic delays.
Det Insp Steve Morrey, of Staffordshire Police, said: "This type of incident is very rare and due to the nature and scale of the incident, detectives are currently investigating circumstances leading to the explosion."
Anyone with information about the incident was urged to contact the force.