Stoke-on-Trent council to return to Hanley to save money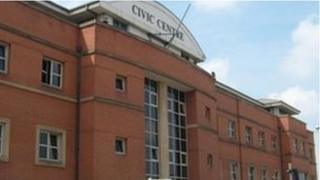 About 2,000 Stoke-on-Trent City Council staff will be leaving the town centre and moving back to Hanley.
The authority is moving from the civic centre and becoming the main tenant in the Central Business District, built on the site of Unity House.
It will cost £40m, but the council hopes that the move will save £2m per year.
The council also wants to move the city central library and archives into the business district.
'Sell off'
It hopes that the scheme will act as a "catalyst to attract jobs into the city", including office accommodation with complementary retail, leisure facilities and evening entertainment.
Labour councillor Ruth Rosenau, who is is responsible for regeneration, said that the district will have a "knock-on-effect" and that more people will come to the city centre.
She said: "If we look at the buildings that the council has at the moment, we're looking at a backlog of work that needs doing on those buildings of £20m, which we could save.
"We also have buildings that we can sell off or utilise in different ways."
The report going to cabinet on 31 May will seek approval to finalise arrangements with the council's development partner Genr8 for the provision of two buildings within the first phase of the development.