New Vic Theatre memorabilia plea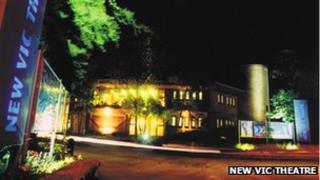 People have been invited to bring along memorabilia of a Staffordshire theatre ahead of an exhibition charting the company's 50 years.
New Vic Theatre in Newcastle-under-Lyme has been holding a "bring in day" on Saturday as it prepares for the exhibition starting on 25 June.
Loans of tickets, scripts, costumes and "more unusual items" would be welcomed, the theatre said.
The exhibition forms part of a project involving Keele University.
The New Vic said it was going to be "an eclectic scrapbook of objects and materials" on loan from the public and from the company's archive.
Head of New Vic Education Jill Rezzano said: "It doesn't have to be a programme or a ticket.
"It could be a photograph of your husband or wife or a wedding photograph as perhaps you met or used to come on dates here.
"You may have worked here so it could be a payslip."
The "bring in day" was taking place at the New Vic between 10:00 and 16:00 BST on Saturday and the exhibition starting in June will run at the site until 21 July.