'Plastic' diamond goes on display for Queen's jubilee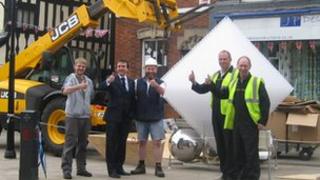 A huge model diamond made out of transparent plastic balls is to be unveiled on Saturday to "scientifically celebrate" the Queen's Diamond Jubilee.
The statue which represents the stone's molecular structure is to go on show in Uttoxeter in Staffordshire.
It has been built by Keele University, local schoolchildren and volunteers who stuck 35,990 balls together.
Team leader, Dr Graeme Jones said it represented "scientific advances" made since the Queen's coronation in 1952.
The sculpture is over 8ft (2.5m) high and 6ft (1.8m) wide and is an octahedral shape with a point at the top and bottom.
Dr Jones said as people walk around it, they can see a "kaleidoscopic effect."
He said: "The advances that have occurred during the Queen's reign have been breathtaking, from DNA to the Big Bang, the mobile phone to the internet - life in 2012 is light years different from that of 1952."
"Making this enormous model of diamond is a uniquely Uttoxeter way of celebrating the Jubilee and honouring the reign of Her Majesty."