Leek roundabout changes: Crossing to be kept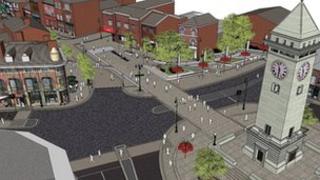 Controversial £5m plans for a new road system in Leek have been changed days before work begins.
Staffordshire County Council has decided to keep a zebra crossing in Ball Haye Street but two others and a roundabout will still be removed.
The council said pedestrian safety was "paramount" and it had listened to people's concerns.
Last month protesters disrupted work at the roundabout, claiming its removal would make the roads more dangerous.
Work to alter the island begins on 11 June, but the council said preparatory works would start on 6 June.
The council said the road system had to change to cope with the extra traffic created by a Sainsbury's supermarket being built on the edge of town.
'Mish-mash'
Under the new scheme the pedestrian crossing at Ashbourne Road will be removed and the one on Haywood Street will be changed into a staggered pelican crossing.
The council said changes to Derby Street would also reduce traffic speeds to make it easier for pedestrians to cross.
Leek South county councillor Neal Podmore said: "Evidently, planning officers have listened to people's worries and I think it's fantastic that this change has been made."
But Sarah Gayton, from Leek, who took part in the protests at the roundabout, described the plans as "absolutely incredulous".
She said: "This is a mish-mash of road traffic management systems which aren't designed to work together, so the council needs to put a complete and utter stop to this plan."