St John's church in Stone to be sold because of repair bill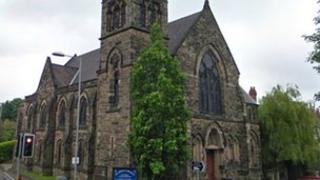 A church in Staffordshire has been put up for sale because its congregation cannot afford a £1.75m repair bill.
The congregation at St John's Methodist Church in Stone voted to leave the listed building and will now look for a temporary venue to hold services.
The building on Granville Terrace will be sold by the West Midlands Synod of the United Reformed Church.
St John's minister Reverend Neil Adams said the cost of renovation "would exceed the value of the property".
"We would need to spend almost £1m on essential repairs, and much more than this to modernise the building fully," he said.
"Like almost everyone else, our overheads are stretching us to breaking point - and we simply cannot afford to keep the building on."
The church recently suspended its fundraising effort to repair the building.