Diamond Jubilee: Staffordshire beacon lit after parties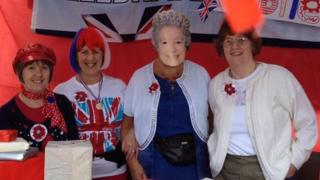 Street parties have been held across Staffordshire as part of Diamond Jubilee celebrations.
Councillor Debbie Wheeldon helped to organise one of the parties in Burgundy Grove, Meir, Stoke-on-Trent.
She said she wanted to do something for the Jubilee and take "any opportunity for the community to get together and do something."
Beacons will also be lit across both Cheshire and Staffordshire later, including one in Stone.
The street party in Burgundy Grove included face painting, balloon modelling and races later in the evening.
' Bit of history'
Reverend Ian Cardinal, from St Michael's Church in Stone, had the role of lighting the beacon on top of the church tower.
He said: "How many Diamond Jubilees have we ever seen?
"There's only been one other Queen that's made it this far, so it's a great bit of history to be part of."
Hixon, near Stafford, also held a celebration featuring collectable cars manufactured during the Queen's reign.
Cross Heath Methodist Church in Newcastle also combined the celebrations with raising money for the church.
See all the latest Diamond Jubilee news and features at bbc.co.uk/diamondjubilee.