Peregrine falcon nest attacked at Staffordshire quarry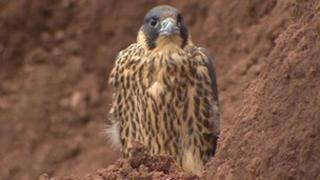 A nest of protected peregrine falcon chicks has been attacked at a quarry in Staffordshire.
Someone tried to steal or kill three chicks at the undisclosed location between about 18:00 BST on Monday and 08:00 on Tuesday, the RSPB said.
But the birds escaped and were scattered across the site before being found back together on Wednesday.
The RSPB said it had talked with quarry staff and was looking at whether it could get 24-hour security in place.
'Anxious period'
Police are also investigating.
Quarry staff found rope above the nest site following the incident, the charity said.
Alan Firth, from the RSPB investigations team, said: "It's been a fairly anxious period until we found them.
"People need to be aware it is a criminal offence if they disturb a nest of rare breeding birds."
The quarry site had not been disclosed to help protect the nest location, the charity said.