Fish returned to Madeley Pool in Staffordshire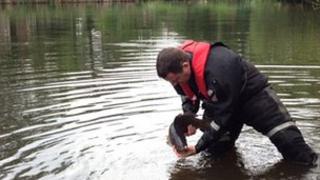 A pool in Staffordshire has been restocked with fish after up to 200 were killed by a suspected silage leak from a nearby farm.
Last week, dozens of volunteers rescued the remaining fish from Madeley Pool, near Newcastle-under-Lyme, hundreds of which were taken to local fisheries.
The Environment Agency said silage had leaked in from a nearby stream, causing fish to suffocate.
The organisation said it was still investigating the incident.
The fish, mainly carp, have been restocked after agency staff spent the past week cleaning the pool and aerating the water.
Ralf Parsons, Chairman of Madeley Pool Angling Club, said the oxygen levels would continue to be monitored over the next few weeks.
He said: "This is the first step to getting the pool back, it's brilliant to see.
"It's a long process, everything needs to be checked to make sure we're doing the right thing."
Mr Parsons said a complete recovery of the site was expected to take up to two months.