Leek roundabout protesters refuse to move from site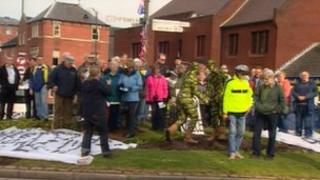 Protesters camped at a roundabout in Leek have refused to move despite letters by Staffordshire County Council asking them to leave.
They have been there since 11 June when work started to remove it.
A statement from the protesters said they "care deeply for their town" and the £5m plans would make the roads more dangerous.
Councillor Neal Podmore said people in the town had been complaining about the protesters.
Protesters have been taking it in shifts to man the site where about eight tents have been erected.
The statement from the protesters said: "The scheme is ill thought out and the council should reopen the roads until we leave, there is no reason to keep them closed at this time."
Concern for traders
The council has said it wanted to finish the changes in time for Remembrance Day in November and campaigners were delaying those plans.
Mr Podmore, county councillor for Leek South, said: "Both our engineers and the police have asked them to move and we are receiving complaints from people in the town centre.
"The ongoing protest is doing nothing to help the local economy, I worry it could have the opposite effect and discourage people from coming here.
"I'd urge the people on the roundabout to think about what they are doing and let the workmen get on with their job."