Leek roundabout protesters face legal action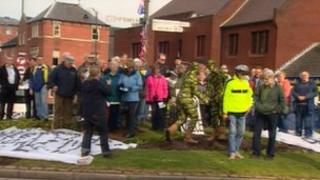 Staffordshire County Council is taking legal action in a bid to remove protesters camped at a Leek roundabout.
Protesters are unhappy with a £5m plan that would see the roundabout's removal and have been there since work began on 11 June.
One of those working shifts to man the site, Sarah Gayton, said the group would "fight for a public inquiry".
The Conservative-led authority hopes to be awarded a possession order by the County Court on Friday 22 June.
If successful, bailiffs would be used to move the protesters on in order for the work to resume.
Neal Podmore, county councillor for Leek South, said he was disappointed the council was having to take court action after giving the protesters letters asking them to go.
'Absolutely disgusting'
Mr Podmore said: "We believe we have been reasonable up to now and have politely asked the campaigners to move.
"But this is now a wider issue of Leek's image, the health of its economy and the disruption to normal life in the town."
Ms Gayton said: "I think it's absolutely disgusting because we're standing here, doing our democratic right to protest freely and they feel they have to take this action against us when they haven't come here to even talk to us.
"We have very, very serious concerns about the health and safety of these junctions.
"Once this is all over, the people that have let this town down... either at local level, regional level and national level... are going to absolutely regret messing with the people from Leek."