Builders of council headquarters face compensation claim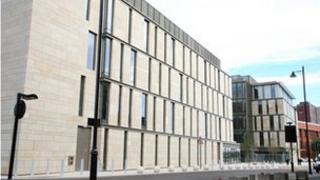 Builders of Staffordshire County Council's new base in Stafford could have to pay compensation after falling stone tiles delayed its full opening.
Contractors said maintenance on all tiles could take until the end of 2012.
Staff moved into the offices on Tipping Street last year, but the council said retail units, due to open in January, remained empty because of repair work.
It said it would be demanding compensation from builders Volker Fitzpatrick for lost rent.
County Councillor Mark Winnington, Cabinet member for Environment and Assets, said: "As soon as we know what it's cost the tax payer, we will be going back to the builders.
"We want this reimbursing and if they don't want to play ball we have a good legal department and we'll take them to court on it."
Volker Fitzpatrick have been unavailable for comment.
Building teams were called back to the new council headquarters in December 2011 after two stone tiles fell off and others came loose.
The council demanded that all 300 stone tiles, that are used to clad the building, should be removed and reattached.
Hoardings and safety fencing were put up around the site to stop workers and shoppers walking through.
The council said that had also prevented the renting of restaurant, bar and shop units which were being advertised at between £31,000 and £49,300 a year.
Volker Fitzpatrick are paying for the extra maintenance work because the complex is protected by a 40-year guarantee, the authority said.