French town pays tribute to British WWII paratroopers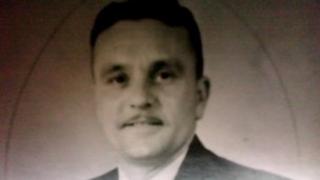 A new memorial dedicated to two British World War II paratroopers is to be unveiled in the French town where they hid from German forces in 1942.
Frank Embury, from Tunstall in Stoke-on-Trent, and George Cornell, from Kent, were part of team sent to Normandy to dismantle German radar equipment, near to the town of Etretat.
This year marks the 70th anniversary of the mission and the new monument is being dedicated in a special ceremony this weekend.
Mr Embury died in 1987 but his daughter, Pamela Kirkham, and her family will be at the service.
She said: "I really don't know how my dad would've felt about it.
"It's something he didn't like talking about, he said it was raking up the past, part of his life that was over and done with."
'Allo 'Allo
Rather than bombing the radar equipment, the paratroopers were dropped in with electronics engineers to dismantle it.
The technology was unlike any that British forces had and they wanted components sent back to England for analysis at Bletchley Park.
During the mission, in which three troops were killed, Frank Embury and George Cornell became trapped on cliffs, under enemy fire.
They were unable to get down on to Etretat beach in time to get on boats to bring them back to England.
The men hid in a barn in a nearby village of Le Tilluel, where they were found by the teenage son of a farmer.
He bought them food and drink and his parents made arrangements for them to go to a safe house used by the French Resistance Movement.
"It's a bit like a script from an episode of the comedy 'Allo 'Allo," said Pamela Kirkham.
"After being moved around Etretat several times they were given farm workers clothes, fake Belgian identity papers and were put on a train to Marseille where they could catch a boat back to England."
'Emotional day'
But the men were captured by German soldiers and ended up in a prisoner of war (PoW) camp for three years until the end of the war.
Five years after Mr Embury's death, his family were contacted by the British Legion on behalf of the people of Etretat.
"We were amazed because the mayor of the town was none other than the young boy who had discovered them in the barn that cold February morning," said Mrs Kirkham.
"He explained that the village realised that if the radar equipment had been bombed instead, their village would have been destroyed so they wanted to express their gratitude to the two parachutists who stayed in the area."
A bronze plaque was put up on the barn where the men had hid, which was also refurbished in February 1992.
The new monument in the town will be unveiled by the French President Francois Hollande on Sunday.
"The town always recognises the date of the mission and have some sort of ceremony, but because the weather is so bad in February they moved the dedication to this weekend," said Mrs Kirkham.
"It's going to be a special for the whole family, and a very emotional day."