Leek roundabout protesters to be evicted after ruling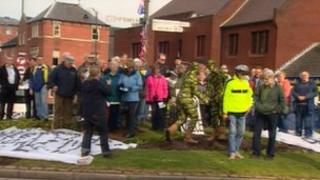 Staffordshire County Council has won the right to evict protesters camped at a Leek roundabout.
Protesters are unhappy with a £5m plan that would see the roundabout's removal and have been there since work began on 11 June.
The Conservative-led authority was granted a possession order by Stoke-on-Trent County Court but has agreed not to implement it until Thursday morning.
A council spokesman said going to court was "the last thing we wanted to do".
District Judge Peter Rank acknowledged that "many well motivated people" opposed the removal of the roundabout, but said the court was not a place of "public conscience" and that he needed to make a judgement based on the law.
Mr Rank ruled that the council did own the roundabout and therefore could evict the protesters.
'Respect protesters'
Councillor for Leek South, Neal Podmore, said: "This is good news for Leek that means we can get on with a major investment in the town centre that is all about creating more jobs and prosperity for local people.
"We had to act in the interests of traders and residents, including a number who had complained about the impact the protest was having."
Protesters have until 09:00 BST on Thursday to leave the roundabout.
One of those campaigning to save the roundabout, Roger Warrilow, paid tribute to the protesters who had camped out.
He said: "To stay there day and night is very hard to do.
"It doesn't matter whether you're for the roundabout or not you've got to respect people who really try to look after democracy."