Leek protest roundabout demolished after court ruling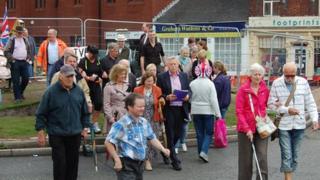 A Staffordshire roundabout at the centre of a 17-month campaign has been demolished.
Protesters camped on the site for two weeks. They were unhappy at the removal of the Leek roundabout as part of a £5m road plan they regard as unsafe.
Staffordshire County Council was granted a possession order on Monday, allowing it to evict the campaigners.
They left the site ahead of a 09:00 BST deadline but said they would now seek a public inquiry.
The council had said going to court was "the last thing we wanted to do".
Protester Sarah Gayton said they would carry on fighting the council over the plans.
"We don't believe we have been listened to by the council," she said.
"We presented an 11,000-signature petition to the prime minister's office at Downing Street and now we're going to ask the government for a public inquiry to show the truth - that proper procedure hasn't been followed and that people have been ignored."
Protester Roger Warrilow said: "A market town for 1,000 years, the front door on Leek is now closed.
"This is one of the attractions that brings people into Leek and the council has disregarded its most important asset - the town centre - by getting rid of its gateway, this beautiful floral roundabout."
District Judge Peter Rank, at Stoke-on-Trent County Court, ruled the council owned the roundabout and therefore could evict the protesters.
He acknowledged that "many well motivated people" opposed the removal of the roundabout, but that he needed to make a judgement based on law.
Protesters claim the £5m plans, which include the removal of two zebra crossings, will make the roads more dangerous.
But the Conservative-led council has denied this and said pedestrian safety was "paramount".
Councillor Neil Podmore said of the roundabout's demolition: "It's obviously good news for Leek that we can now get on with the work and the major investment in the town centre which is all about creating jobs and prosperity for local people."