Stoke-on-Trent City Council objects to Redhill plans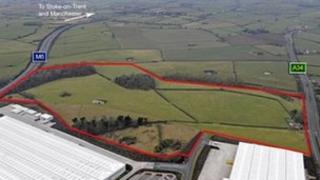 Stoke-on-Trent City Council has lodged an objection to a proposed development in nearby Stafford.
Staffordshire County Council said its £8.5m project near the A34 in the Redhill area would create 2,500 jobs in research and technology.
A spokesman for the scheme said it would benefit the whole county.
But the city council has objected as the application is for a greenfield site and it feared it would impact its own development plans.
The Labour-led authority was consulted on the plans because of its close proximity and deputy leader, councillor Paul Shotton, said their own aspirations to regenerate areas like Hanley could be affected.
'Drive economy forward'
Mr Shotton said: "Planning polices do dictate a sequential approach when bringing forward brownfield site redevelopment in preference to building on greenfield sites - this is our main objection to this planning application."
The Conservative county council's cabinet member for economic growth and enterprise, Ben Adams, said the park, which could be completed by spring 2013, would "improve the county's economy".
He added: "We have been working closely with Stafford Borough Council on this application as we all want to drive our local economy forward."
Jeremy LeFroy, Conservative MP for Stafford, dismissed concerns about the development having a negative impact on Stoke-on-Trent.
Mr LeFroy said: "Both the city of Stoke-on-Trent and Staffordshire can thrive and we've begun to see that in the last few years.
"We need to work together and not seek to say 'if you build, people are not going to come to us'."