Farmers hold milk price cuts protest meeting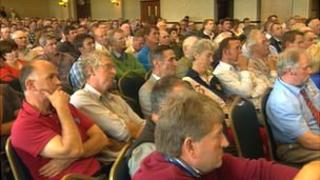 Hundreds of dairy farmers demanding immediate action following cuts to milk prices have held an emergency protest meeting.
About 700 attended the gathering at Staffordshire County Showground.
If planned cuts go ahead, some farmers could be paid about 24p a litre. It costs more than 30p a litre to produce milk, said the National Farmers Union.
Several milk processors have announced they will be reducing prices because of market conditions.
Robert Wiseman, one of the dairies announcing cuts, said: "The decision follows a collapse of in the value of cream in each litre of farm gate milk over the last 12 months.
"We have done everything we can to minimise the reduction in our farm gate milk price but we must now reflect the substantially lower returns from the markets which we serve."
Adam Quinney, vice president for the union, said it was "really important" that retailers "step up to the mark" when rewarding farmers for their work.
Mr Quinney added: "[Farmers are] getting up at 4.30am doing all the work that they do to produce milk for the consumer.
"Unless they receive a reward for doing that to cover their costs there will not be milk production in some parts of the UK by this time next spring."