M6 Toll coach interception right decision: Ex police chief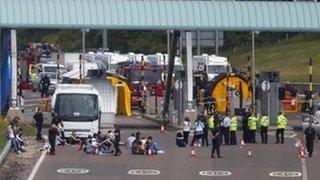 A former chief superintendent with Staffordshire Police has defended the interception of a coach in a suspected terror alert on the M6 Toll road.
Nick Howe said closing the motorway near Lichfield on Thursday, following reports of vapour escaping from a bag, had been the "right decision."
An electronic cigarette prompted armed police to swoop on the coach and close the motorway for more than four hours.
He said they were responding against the "increased terrorist threats".
Forty eight passengers on the Megabus Preston to London service were led off the coach and forced to sit apart in a cordon on the opposite carriageway.
'Credible terrorist threat'
Staffordshire police said that they had received a "genuine report" of vapour escaping from a man's bag while the coach was near the M6 Toll plaza at Weeford.
Armed officers, troops, firefighters and bomb disposal experts all went to the scene.
Mr Howe said: "Once upon a time, fumes coming out of a bag would have been an innocent activity, today that creates suspicion.
"In 1995, in Tokyo in Japan, there was a sarin attack, which is a toxic chemical… a not dissimilar incident occurred.
"Smoke and fumes were seen to be coming from a canister in a bag and thousands of people were injured and several people got killed.
"You've literally got minutes for the emergency responses to respond."
A police spokeswoman said, given the credibility of the information received, officers had "responded swiftly and proportionately".
Mr Howe said: "Every year since 9/11 this country has faced a credible terrorist threat… I can only imagine the degree of information and intelligence that's going on in the background with the impending Olympics coming up."