Leek roundabout: No public inquiry, says minister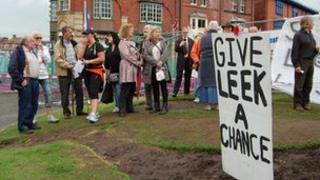 Campaigners who wanted a public inquiry into the removal of a Staffordshire roundabout have been told by the government they will not get one.
Protesters in Leek, unhappy with a £5m road plan, spent 17 days camped at the site until they were evicted by Staffordshire County Council.
They met with Transport Minister Norman Baker on Thursday but he said he had no powers to grant them a public inquiry.
He said he would write to the council about some of their safety concerns.
Mr Baker said: "It is up to local authorities to decide how they design new road junctions, where traffic crossings are placed and to make sure they fulfil their duty to secure the safe movement of traffic."
"Ultimately this is a local issue that needs to be resolved at a local level.
"I have no power to overrule or dictate to councils in such matters."
'That's monumental'
Alterations to the road layout were given planning permission in December 2010 in a bid to cope with extra traffic created by a Sainsbury's supermarket being built on the edge of the town.
But campaigners believe the new traffic system, which includes the removal of two zebra crossings, will make roads more dangerous.
Campaigner Sarah Gayton said: "Mr Baker said he would make sure the council had taken the needs of blind, partially sighted and disabled people into account with the new road layout and crossing designs.
"I think that's monumental because we've been asking about the safety of this plan since February and not had the answers we wanted from the county council."
Ms Gayton said that Lord Howard Flight would be asking a question in Parliament on their behalf about the dangers of the crossings.