Largest Staffordshire Hoard display goes on show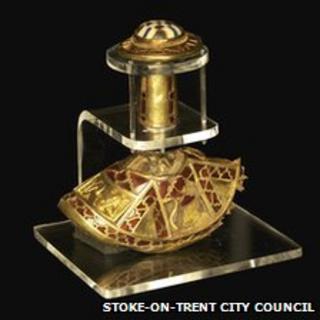 A record number of items from the Staffordshire Hoard have gone on show at a new exhibition in Stoke-on-Trent.
Dark Age Discovery at The Potteries Museum and Art Gallery includes 226 artefacts from the hoard, dating back to the 7th Century.
About 3,500 pieces of Anglo-Saxon treasure were found by a metal detector enthusiast in a farmer's field in Staffordshire in July 2009.
A £40,000 Heritage Lottery Fund grant has gone towards to the exhibition.
Gold and silver
It took nine months to plan and will run until 1 September 2013 after opening on Saturday morning.
Hoard items are being displayed in eight cases, while a further three cases include Anglo-Saxon artefacts also found in Staffordshire from the museum's archives.
Stoke-on-Trent City Council and Birmingham Museum and Art Gallery jointly own the hoard, which includes gold and silver artefacts.
A research project has started to piece together why the hoard was buried in a Staffordshire field, Stoke-on-Trent council said.
The cabinet member for economic development, Mark Meredith, said: "We will look to provide updates as part of the exhibition when new discoveries are made.
"This.. puts visitors to our museum at the very forefront of latest breakthroughs and knowledge about this ancient treasure."
Stoke-on-Trent council said it had secured an English Heritage grant of £276,000 for the research scheme.
It added that a partnership between the council, Birmingham Museums, Lichfield District Council, Staffordshire County Council and Tamworth Borough Council, had also contributed £68,000 to the research programme.