More than 60 villagers have bought shares in Hollybush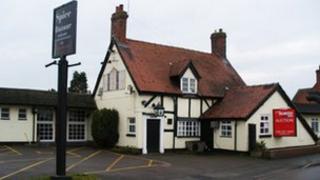 A company set up to save a Staffordshire pub from closure now has 61 shareholders.
Residents in Seighford, near Stafford, bought the Grade II-listed Hollybush for £199,000 at auction in March. It was previously an Indian restaurant.
So far about £210,000 has been raised by selling shares in the Seighford Pub Company.
Chairman Robert Eld says they were in the process of looking for a tenant to turn it back into a pub.
Mr Eld said: "We want to be community orientated.
"While we are not a co-operative, the whole purpose is to promote a pub for the community."
Mr Eld has said a total of about £250,000 would probably be needed before the pub could reopen and it is hoped this would be by the end of the year.