Hundreds of ex-miners invited to wartime memorial show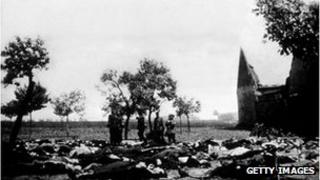 Some 500 hundred former miners have been invited to a wartime memorial concert in Stoke-on-Trent.
It is marking the 70th anniversary of an organisation set up in the city to help survivors of a Nazi massacre.
Lidice Shall Live was formed by a city councillor and local miners in September 1942 to raise funds for the Czech village of Lidice.
The village was razed to the ground in June 1942 after a senior Nazi official was assassinated.
The concert is at Victoria Hall in Hanley on 8 September.
The event is being organised by Stoke-on-Trent City Council which is offering 500 free tickets to former miners.
Adolf Hitler sanctioned the destruction of Lidice in June 1942, following the assassination of Reinhard Heydrich, the highest ranking Nazi official in the Protectorate of Bohemia and Moravia.
More than 170 men were executed there and many of the women and children were murdered in concentration camps.
The massacre inspired Stoke city councillor Barnett Stross and local miners to set up the Lidice Shall Live campaign to raise funds for the rebuilding of the village.